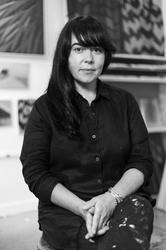 Sage Tucker-Ketcham

grew up in Vermont, Toronto, London, and the Washington DC area. Her adult life has been spent in Northern Vermont, Cape Cod and Maine. Sage Tucker-Ketcham received her BFA from Maine College of Art and her MFA from Massachusetts College of Art and Design. She received Art Residencies at Shelburne Museum, Shelburne, VT and at Burlington City Arts, Burlington, VT. Past exhibitions include Flinn Gallery, Greenwich, CT, Eisenhauer Gallery, Martha's Vineyard, MA, Bee Street Gallery, Dallas and Fort Worth, TX, Portland Art Gallery, Portland, ME, Edgewater Gallery, Middlebury, VT, S.P.A.C.E, Burlington, VT,

Institute of Contemporary Arts

Portland, ME,

Provincetown Art Association and Museum, Provincetown, MA.



About the work


The paintings of Sage Tucker - Ketcham investigate intentional and psychological relationships between color, form, and space. These paintings are process driven with an emphasis on composition and color theory. They are constructed layer by layer with attention to high contrast color combinations the color palette is observationally inspired by interesting atmospheric moments. Shapes are painted repeatedly by the time a painting is complete, any given area may be repainted with a different color combination up to ten times until the right color combination clicks. Her subject matter are mountains, buildings, and shrubbery; together they form a relational narrative through strategic placements within the landscape. The goal is to develop an aesthetically accessible visual language that also activates a range of emotions.